Due to the rising costs of health care, insurance benefits have increasingly become more complex. It is sometimes difficult to determine exactly how much mental health coverage is available. "Managed Health Care" plans such as HMO's and PPO's often require authorization before they provide reimbursement for mental health services. These plans are often limited to short-term treatment approaches designed to work out specific problems that interfere with a person's usual level of functioning.

You should also be aware that most insurance companies require that you authorize me to provide them with a clinical diagnosis.  This requires additional clinical information such as treatment plans or summaries, or copies of the entire record. This information will become part of the insurance companies files and will most likely be stored in a computer. Although all insurance companies claim to keep such information confidential, I have no control over what they do with it once it is in their hands. In some cases, they may share the information with a national medical information databank.

Since your confidentiality cannot be guaranteed once you use your insurance company to pay for our phone or email sessions, plus the fact that most insurance companies will only allow you a short number of sessions to fix what may have taken 20 years to develop, I do not deal with insurance companies.

Because I take your confidentiality very seriously I do not want some clerk in an insurance company to see your files, which contain your very personal and private information. When you use an insurance company to pay for our sessions, you are essentially allowing an unauthorized individual to see your private life and issues.

The client attorney privileges that lawyers guarantee to their clients protecting their confidentiality, is the same rule of thumb for counselors and their clients. Therefore, I do not take insurance as I believe it would violate the confidentiality and trust bond that is established between myself and my clients.

I believe it is in the client's best interest to keep counseling completely confidential and that there be no "imposed time limit" by a third party on how much counseling may be required in each individual case.

We do not take insurance in order to protect your confidentiality



We accept PayPal and all other major credit or debit cards. Once you hit the PayPal button it will allow you to pay with PayPal or another major credit or debit card. No PayPal account is required.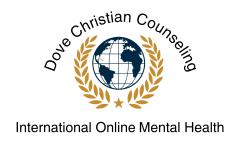 Copyright © 2006 - 2018 Dove Christian Counseling Center. All Rights Reserved

Please go to Services and Fees to make your payment should you desire our counseling services.